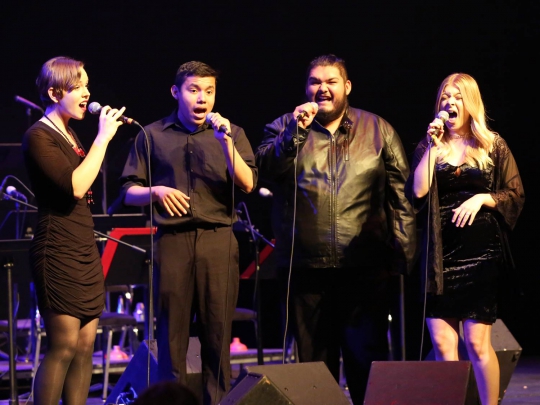 Vocal Jazz Lab Singers
Synergy Vocal Jazz performs challenging repertoire at a variety of concerts on campus as well as festivals throughout Southern California. Students in Synergy enjoy learning about and digging into the jazz tradition in a spirited approach to melody, text, harmony, theory, rhythm, and improvisation. Each year, the ensemble accepts up to 16 singers by audition, they all sing on individual microphone, and are accompanied by a student rhythm section.
Participation Requirements:
The ensemble is open to students in any major, however prior choral experience is highly recommended. An audition and enrollment in MUS 286 F are required to join - please contact the faculty coordinator listed below for more information.
Next Occurrence of this series:
Sorry no occurrences scheduled... Please contact Jamie Shew or check back again soon