Roland Digital Drum Set Lab
The twelve-station lab –– the largest in the nation –– utilizes a two-way communication network that allows the instructor to lecture and demonstrate to the entire class, selected groups or individual students without distraction. The facility is used as both classroom and practice lab, illustrating Fullerton College's commitment to providing its students with the most up-to-date digital technology and lab/group instruction solutions.
Virtual Tour
MUSIC TECHNOLOGY LAB
The room has twenty five student desks, each equipped with an iMac, UA Apollo Twin, and Arturia KeyLab keyboard. Each computer has Pro Tools Ultimate, Logic Pro X, Ableton Live, Finale, Melodyne, and many other music technology software installed that are taught in the classes. The synths corner has three modular synths (Synthesizers.com and 2 Euroracks) and many hardware synthesizers (various Moogs, Prophet8, Oberheim, Nordlead, etc.) that students have access to..
Virtual Tour
Recording Studio
The studio is equipped with an Audient ASP8024 36 channel mixing console and a MacPro, running Pro Tools Ultimate and a full suite of Waves, UA, and other professional plugins. Outboard gears include Teletronix, UREI 1176, Avalon VT-737sp and VT-747SP, NEVE 1073LB preamps, and the large microphone selection includes all major brands like Neumann, Telefunken, AKG, Sennheiser, Shure, etc.
Virtual Tour
Piano Lab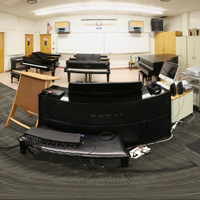 Equipped with twenty four roland digital pianos.
Virtual Tour