Roland Digital Drum Set Lab
The twelve-station lab –– the largest in the nation –– utilizes a two-way communication network that allows the instructor to lecture and demonstrate to the entire class, selected groups or individual students without distraction. The facility is used as both classroom and practice lab, illustrating Fullerton College's commitment to providing its students with the most up-to-date digital technology and lab/group instruction solutions.
Virtual Tour
Keyboard Lab
Equipped with twenty five keyboards and MAC computers.
Virtual Tour
Recording Studio
Equipped with Audient ASP8024 36 channel mixing console.
Virtual Tour
Piano Lab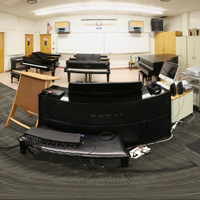 Equipped with twenty four roland digital pianos.
Virtual Tour