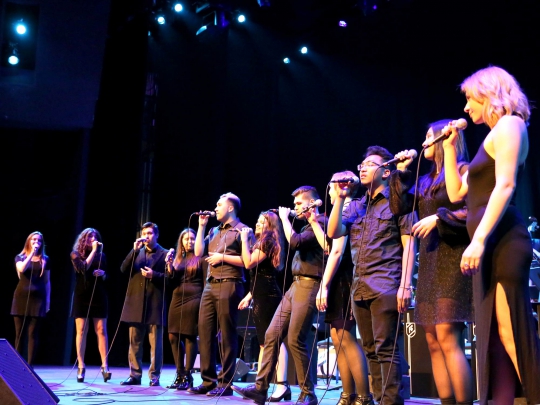 Vocal Jazz Ensemble
J-Train is the premiere vocal jazz performance, touring, and recording ensemble at Fullerton College. The group performs nationally at jazz festivals, conferences, and many other private and public concerts and has released three albums since 2008. They have appeared on stage with such legendary jazz artists as New York Voices, Tierney Sutton, Bobby McFerrin, Don Shelton, Kristin Korb, Sunny Wilkinson, and Nancy King. J-Train has performed at a variety of jazz festivals around the country, including Phil Mattson's 2005 Vocal Jazz Festival at Carnegie Hall, the 2013 Frank DeMiero Jazz Festival in Seattle, the 2014 UNC Jazz Festival in Greeley, CO, and the 2016 New York Voices Jazz Festival in Chicago, IL. They also had the distinct honor to perform at the 2013 Twelfth Kyoto Prize Symposium Gala and the 2015 Jazz Education Network's National Convention, both held in San Diego, CA. In March 2012, J-Train competed at the Monterey Next Generation Jazz Festival, and won first place in the College Vocal Jazz Ensemble Division. This distinguished award gave them the opportunity to return in the following September to perform at the world-renown 55th Annual Monterey Jazz Festival.
Participation Requirements:
The ensemble is open to students in any major, however, prior choral and vocal jazz experience is highly recommended. An audition and enrollment in MUS 287 F are required to join - please contact the faculty coordinator listed below for more information.
Next Occurrence of this series:
Sorry no occurrences scheduled... Please contact Jamie Shew or check back again soon